Tonight is the ball!
As of right now, I have no dress, montage music, or army of rodent seamstresses, but I'm not worried.
It is perfectly acceptable to skip one's first lecture of the day if it's in pursuit of a dress.
Right?
Anyway, I'm off to find the magical dress of my dreams.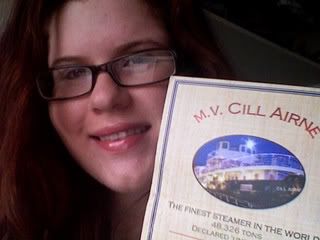 And, yes, I've only painted the nails on one hand.
Hope you're all having a lovely Monday/had a great weekend!
Update: The ball was at least twenty-eight trillion kinds of amazing. Everyone looked gorgeous and just gahhhhhhhhhh. So good. My camera is too big to bring to these things, but I will be more than happy to steal some from my friends' photos once they're sorted.
This was my dress, which I got for more than half off. Hell to the yes, TKMaxx!
I wound up completely ignoring the theme, shy of my feathers and makeup, but that's fiiiiiine.
Nothing better than Photobooth pictures for now, I'm afraid.
And these shoes.
As much as I love these babies, dancing for six hours nonstop has killed my tootsies.
The music was not right for the decade, but it was glorious. When Minnie the Moocher came on, I pretty much lost my mind.
Love!